MedReality in the News
MedReality is a platform focused on the use of 3D visualization within healthcare to streamline care and improve patient outcomes. Key stakeholders can easily access and securely share 3D data from a mobile device on the web or in AR at anytime, creating a better flow of information for all. This is the place to find the latest news from MedReality.
Stay current with news and press releases about MedReality, including the launch
of the new MedReality Marketplace, a marketplace dedicated to
providing high quality 3D models created from real medical cases.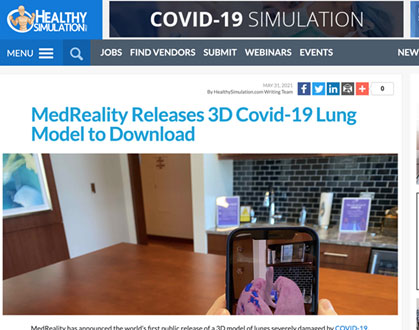 MedReality Releases 3D Covid-19 Lung Model to Download
HealthySimulation.com is the world's premiere Healthcare Simulation resource. They featured the release of MedReality Covid-19 Lung Model. Read the full story here.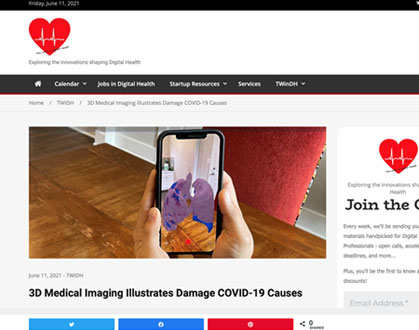 3D Medical Imaging Illustrates Damage COVID-19 Causes
We sat down with at Mike Doherty of This Week in Digital Health and covered a host of topics ranging from medical 3D visualization to improving workflows for physicians and adding value for hospitals. We even had time for some AI talk! Full conversation here.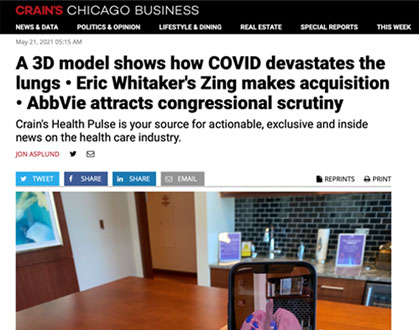 A 3D model shows how COVID devastates the lungs
Jon Asplund of Crain's Chicago, shared the release of the Covid Lung model in Crain's Health Pulse round-up — a source for inside news on the health care industry. Crain's also highlighted the new MedReality Marketplace, an online marketplace to source high quality 3D medical models.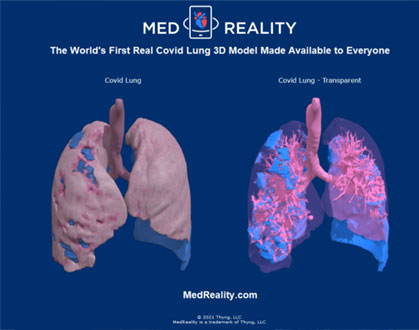 MedReality Announces the World's First Public Release of a 3D Model Showing Real Lungs Severely Damaged by Covid
Chicago, May 11, 2021 – Thyng, LLC announces the world's first public release of a 3D Model of Lungs Severely Damaged by Covid – and its immediate availability for anyone in the world to download and experience using real-time 3D visualization, helping advance the understanding of Covid for physician communication, patient awareness, education, training and research purposes. View the Full Press Release.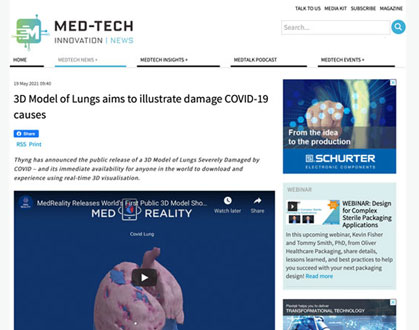 3D Model of Lungs aims to illustrate damage COVID-19 causes
The Covid Lung 3D Model was created from an actual patient with severe COVID Illness. The detailed Covid Lung Model was created from a CT scan of the patient on day 9 of their COVID infection. The patient was placed on a ventilator soon after the CT scan was taken, and remained on the ventilator for twelve days, ultimately surviving the infection. The 3D Model allows everyone to see the significant and devastating impact that COVID can have on the lungs, including on the lower lobes of the lungs, on the periphery of the lungs, and around the bronchi within the lungs. Head over to Med-Tech for the full story.
Let us serve as expert resources for you on topics like augmented reality, 3D visualization in medicine and
and the digital transformation in healthcare.
We welcome any and all inquiries from the media, bloggers, analysts and influencers. Whether you cover Healthcare, Technology, Imaging, Augmented or Virtual Reality, Communications, 3D Printing, or broader topics related to the innovative use of 3D visualization to solve healthcare challenges, we're here to help.
MedReality's roots in 3D visualization date back to the nineties. We love talking about AR, VR and we've got the answers to all your questions. Get in touch to learn more about MedReality's role in the space: helping patients, doctors, and researchers to better communicate and understand diagnoses or complex procedures.
We believe that democratizing 3D medical data will positively impact patient outcomes, education, training and research. It's a BIG vision and we're happy to share it with you! Email us at info@medreality.com to set up an interview.
---
New 3D Covid Lung Model and MedReality Marketplace Media
Members of the media are welcome to use these screenshots of the Covid Lung model and the MedReality Marketplace, our marketplace is dedicated to providing real-world 3D Models of actual medical cases aimed to advance education and understanding for physicians, researchers, medical students, and patients.: